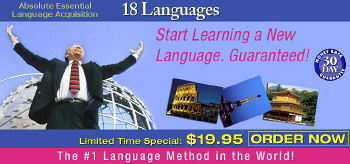 Click HERE to purchase now!

(over 50 currencies accepted)
Just $29.95
including worldwide shipping

You can pay securely over the Internet using Visa, Mastercard, Delta, Switch, Solo, American Express, Discover, Diners Club, Eurocard, JCB and other cards. You'll also be given the option to pay via Paypal, over the telephone, or by mail through a US or UK cheque.

18 Languages. Limited Time Special - $29.95 including Shipping Worldwide. Order Now!
•The Most Widely Used Method in the World
•The Easiest, Fastest Way to Multi-Language Learning
•18 Languages on 2 CD's
•Simple, Easy to Understand Step by Step Instructions
•Ideal for Travelers, Students and Business People
•Interactive, customized instruction from Native Speakers and Translators
•Repeat lessons and animated drills using the record & playback features
•Review your progress with quizzes & games at escalating difficulty levels
• Set your own pace for language learning with this revolutionary product!
• With 18 Languages, multilingual learning isn't just lip service, it's guaranteed!
Languages Included
Chinese (Mandarin)
French
German
Italian
Japanese
Spanish
Russian
English
Arabic
Brazilian
Danish
Hebrew
Korean
Portuguese
Swahili
Tagalog (Filipino)
Tamil
Zulu